Please review our space guidelines before making a request.
Academic Classes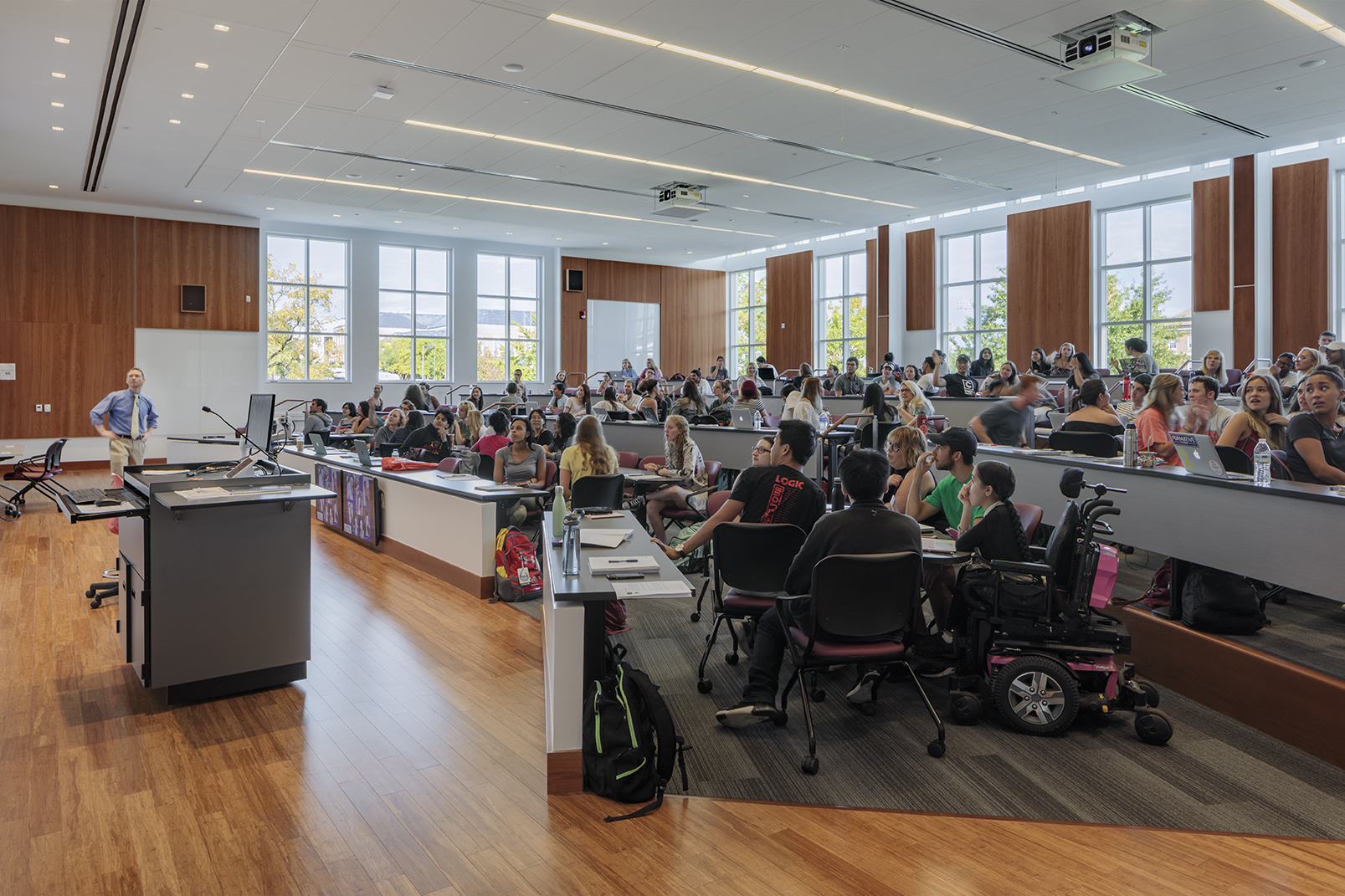 TERP Classrooms are available for scheduling officers to request for academic classes during open online course scheduling period. Scheduling priority is given to courses that meet the following criteria:
Please contact Course and Classroom Scheduling Services at schedule@umd.edu with any questions related to reserving ESJ classrooms for academic courses.
Internal Users
Please see bottom of page for reasons an academic event may be required to pay a rental fee.
ESJ TERP classrooms are available free of charge to academic units and campus programs for their events (information sessions, orientations, meetings, trainings, etc.) during the building's normal operating hours. Space becomes available for users to book in accordance with the Office of the Registrar's policies on booking General Purpose Classrooms. Academic Units/Faculty
Contact your department's designated department scheduling officer, who can submit an online room reservation request for any ESJ classroom.

Administrative Units
Administrative Units may utilize ESJ classrooms for meetings, trainings, and other events geared toward campus users. If the unit does not have a scheduling officer, email esj@umd.edu or fill out this form to make a request.

Registered Student Organizations
ESJ's classrooms are not on the list of approved rooms that Registered Student Organizations may reserve for free.
If a student organization is hosting a large event, such as a symposium, conference, or similar event, space may be rented for a fee on a case-by-case basis. Registered Student Organizations must pay the Internal User rate for the room, and have their event coordinated through Conferences and Visitor Services, who will charge a fee for their services (in addition to the space rental fee). At least two weeks' notice is required to reserve space. ESJ does not reserve space for weekly group meetings or small ad-hoc functions.
If your events meets the criteria of a large conference or symposium, you may fill out ESJ's event form to enquire about availability.
Registered Student Organizations may book free General Purpose Classroom (GPC) space in other buildings through Event and Guest Services in Stamp.
A University academic or administrative unit may "host" a Student Organization's event. The hosting unit must make the room reservation (following directions for Academic Units and Administrative Units outlined above), and agrees to be the main contact for the event, and responsible for all coordination, financial, and legal liabilities associated with the program.
ESJ has seven Huddle Rooms which are intended for use by students.
For Small Meetings and Group Study
ESJ's Huddle Rooms are small conference rooms available to all students, faculty, and staff. At least three people must be using the space in order to reserve. They can be reserved two weeks in advance, up to two hours at a time. Users must have a campus directory ID and password in order to book a Huddle Room.
External Users
ESJ's facilities are available to the public for conferences, meetings, and other events. Please contact UMD Conferences & Visitors Services.
View our Rental Rate Sheet.
Rental Fees
Campus events that include any of the following may incur additional charges:
Require a general space for catering or a reception
Occur outside normal operating hours
Require additional AV support
Require security
Are geared towards external users
Charges participants to attend
Please view our Rental Rate Sheet.